Once again I'm taking a topic from Top Ten Tuesday on The Broke and Bookish. This time, the books that I want to read this fall.
A Dance with Dragons by George R.R. Martin. I've been putting this off for a while, and I'm not even sure why. I think I've just been on a short book kick? And I never did finish rereading the whole series beforehand. (Thanks, Wikipedia!)

Walt Disney: The Triumph of the American Imagination

by Neal Gabler. I'm currently reading this, but it's danged long (though not as long as Dance) so this will take me a while to read this.
Seconds by Brian Lee O'Malley. I have it, it's sitting on my shelf, I'm gonna read it this week, I swear.
Extras by Scott Westerfeld. I've also been putting this one off, because I loved Tally and she's not the main character here, as far as I can tell from the description. But I want to hand the whole book stack over to other people to read, so I've got to finish the series first.
Tell Me Again How a Crush Should Feel by Sara Farizan. Not only did I go to Lesley with Sara but her first book, If You Could Be Mine, was truly excellent. I can't wait until this one comes out in a couple of weeks.
The Way of Kings by Brandon Sanderson. I mentioned last week that I need to read more Sanderson. And I will. Perhaps on an upcoming plane trip…
Blue Lily, Lily Blue by Maggie Stiefvater. I also mentioned last week how much I want to read the next in her Raven Boys series. This also comes out in a couple of weeks. October is a good month this year.
Those are the books I plan to read this fall. will I get to all of them? Probably. Will I kick some out in favor of another one I decide I want to read more? Also probably. And obviously I'll be filling in my months with more than that.
What books do you plan on reading this fall?
For a few months, much of my writing time has been spent on researching and plotting a story that had been sitting in my head for quite some time. I read books, looked up myths, took notes, and thought out the characters and plot as deeply as I could.
Finally I thought I'd figured out enough of what was going on to sit down and write the story. So I opened the notebook, put pen to paper…and I was bored. No matter how long I kept at it, I couldn't get excited about the story I'd been preparing to put to paper for so many weeks. It simply wasn't sparking for me.
Then, I got comments back on a story I had sent to one of my writing friends, a short piece that I had written months ago. I'd been unsure if this was a stand-along piece or a chapter one of something bigger. I had been unable to think of where to go with it next, so I shelved it until sending it along to this person. The comments I received were so enthusiastic, and he even asked the question I'd shortly puzzled over myself: was there more?
Bolstered, I tackled this slightly older story again, this time only brainstorming for a couple of days before rushing into the real writing. I've written dozens and dozens of pages now, a great majority of them to be definitely thrown out, scenes that I re-imagined different ways one right after another. I know I'm generating a hot mess as I go, but I feel the story in my fingers, and I feel right and accomplished when I finish the pages. I haven't gone back to my plotted story since.
I've uncovered something about myself as a writer through this. If I plot and outline too much, I lose excitement, the need, to bust the story out. But if I jot down ideas as I go, and let the story take me wherever it pleases, I feel excited, invested, and as if the story is taking up more of my brain even when I'm not writing. Probably at least 90% of what I'm doing now will be reordered, rewritten, or thrown out by the time I reach the very end; my method is not the most efficient, and considering I like to know what the plan is so much in life it's strange that I operate this way in writing. But I'm better, more productive, as a writer if I don't lay out much of the track.
Writers, do you plot out your stories first? Or do you scribble out a hot mess and carve the plot out after?
I'm taking this meme from The Broke and Bookish, who have a weekly Top Ten Tuesday list other bloggers can take part in. I'm going to cheat on mine, since I will not be listing a full ten authors, and for my own sake I'm counting a series as one book.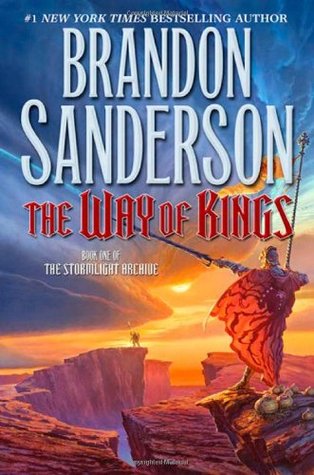 Brandon Sanderson. I recently finished the last book in his Mistborn trilogy, The Hero of Ages, which simultaneously broke my heart and filled me with euphoric joy. He has a real sense of his plot and how to feed small bits of information that become massively important towards the end, and his characters were diverse and loveable and wonderful. I don't think I'll ever read his Wheel of Time books after he took over for Robert Jordan (I couldn't get through the first one, and I don't have a lot of desire to try again) but he has some other big chunky fantasy novels, plus some young adult, that I'm looking forward to cracking open.
Maggie Stiefvater. Another where I've read a series, not just one book. Not even the whole series: the first two of The Raven Boys (the third comes out next month). The plot is okay, but the characters are the real draw, and her writing style is really lovely, it drew me in so that I finished the books much faster than I thought I would have. I initially dismissed her Mercy Falls books, because I thought she was jumping on the supernatural bandwagon, but I'll have to go back for those and The Scorpio Races.
Marcus Zusak. I read The Book Thief a little over a year ago, and I loved it. I'll probably read it again soon. But I at least want to pick up I Am the Messenger, too.
Gayle Forman. I read If I Stay a few months ago, and it near broke my heart. I'd like to read the sequel, Where She Went. If I survive that, then I'll try her other book pairing.
E.L. Konigsburg. I have only ever read The View from Saturday Morning. I know, but don't worry, I'm very ashamed of never reading From the Mixed Up Files of Mrs. Basil E. Frankweiler.
This is what I could come up with, since generally when I really enjoy an author I seek out their other novels anyway.
What authors do you want to read more of?
Lately when I've gone outside to walk the dog in the morning there's a distinct chill to the air along with a faint tangy smell, the leaves preparing to turn color, to die. It's not quite here yet, but all of that tells me that fall is coming, and I am so, so happy.
Fall (autumn) is the time when I feel the most like myself. I wear the clothes that I love: sweaters, flannel shirts, long pants, fleece tights. There is food made from cinnamon and apples. And there's apple picking! The air is cool, comfortable to move in without biting my skin or making me sweat. And the smell — I really to love that dying smell.
There are no real holidays until Thanksgiving to cause stress, no sense that I should be going places because it's summer and that's what you do in summer. It's dark when I wake up now, and I prefer that, sliding into the morning with the sun while I write (or procrastinate and read webcomics). When I take the back roads to my job, wind will shiver the tree branches and leaves in my favorite colors will rain down on my car.
I like the other seasons fine, I even don't hate summer despite the oppressive pressure all that sunshine puts on me. But in the fall I feel comfortable, I feel relaxed, as if when the leaves change color someone hits a reset button hidden somewhere on my spine.
Do you have a favorite season, one that makes you feel like you? Do you live in one of those weirdo places where seasons barely exist? What's that like?
It was my birthday last week, and the one thing I finally decided on asking for from my husband was a Nook Glowlight. For years I've had mixed feelings about eBooks. Paper books are superior in their reading and tactile experience (they are), I like to own things I love, I like to shop for books, and sometimes I feel like the price of the eBook is not worth it as in times when I can get the brand new paper copy for less money than the eBook off the same website.
We got a Nook Color a couple years ago, and I started reading some graphic novels on that. And I didn't mind it too much. Then recently, the library I work at got their own Nook Glowlight, and I took it home for a spin. It was after that that I decided it was probably worth having, despite my earlier reservations.
Traveling. The last time my husband and I took a week vacation, I took a bag of books. Literally, I filled a duffel bag with manga, novels I was reading, novels I might read, books of poems, nonfiction I'd checked out of the library… Really, an excessive number of books. I knew it was excessive. My husband knew it was excessive, but he didn't say a word. Now, having the Nook wouldn't have cut down on everything — I actually was reading three of them! — but it can help me reduce the number, and make me less panicky about running out of stuff to read. I foresee particular use for this the next time I'm on a plane.
Space. There is no space on my shelves. Most of them are double stacked to some extent. And even though I really, really want to get another bookshelf, I have to agree with my husband that there is no space for the thing in our little condo. I don't have shelving for every new book I want — but it doesn't really matter when it's digital.
Books rotating out. On a yearly basis I'm donating bags of books to the library. Some of them are books that I've had for a long time, and I've come to grips with the fact that I'll never read them again, like some of the manga that only appealed to high school me. Then there are others, mostly books I hoarded when I worked at the used bookstore, that I never got around to reading, and now I'm ditching them by the sackful. Basically, I'm getting books out of my way all the time, and while it's nice to give to the library, it is also a pain to have to regularly dig through my stuff just to keep from tripping or to prevent my shelves from caving in. With the Nook, I can make a wishlist so I remember what I want to read, and hopefully only buy when I intend to read them, and then if they're cursed to languish it won't be my duty to haul them somewhere else.
Font. I like that I can change the font size. One night when I was very sleepy, I was having trouble reading the words. Then I pumped up the font size and I was able to get through the rest of the chapter faster.
I'm not going to stop buying physical books. Let's clear that up. I'll keep buying books by Lesley classmates, and Scott Westerfeld's new novel is going to find a nice home snuggly on top of other sideways books. Anything important, I'll buy, even if it means I wind up buying it twice. And I'm still getting most of my reading from the library, I'm not made of B&N gift cards. But I like reading on the Nook, and I like the idea that I can carry a portion of my personal library with me inside my purse.
Do you read eBooks (if not, why?)? What device to you use? Do you find you read more or less with an eReader?
I've been slack in my comic reading lately, which is weird for me. So, between the library and a couple of comic store trips, I've been trying to remedy that. Here are my thoughts on a few of the books I've been reading lately: This One Summer, Say I Love You, and Seeing Red.
This One Summer by Mariko Tamaki, art by Jillian Tamaki
Rose and her family are traveling to the lake this summer, like they do every year, and she's excited to see her friend Windy, another girl a couple years younger than her. But this year things are different: her mother is depressed after failing to have another baby, her parents won't stop fighting, and a local scandal involving a teenage girl wends it's way through Rose's life. All through that, she's starting the horrible transition out of childhood.
Emotions run strong in This One Summer; Rose is bitter that her mother is so upset about not having another baby, as if she's not enough, and this causes her to blame her mother, and all women, for the messes they get themselves and others into. As an objective adult I can see how bratty and selfish Rose is being, but I also understand that while it may be skewed this is the only way she can see to make sense of the problems around her. Her friendship with Windy get's rocky, too, as Rose seems to force her way through growing up — taking out the scary movies to impress the boys at the general store — while Windy feels uncomfortable around the teenage boys and wants to keep making goofy jokes, even as it starts to annoy Rose. With constant tension between Rose and everyone else, and the intrigue of the local story, it's a fast read even for a graphic novel, but Jillian's illustrations made me pause again and again with the detail in things like the water or the trash at the teenagers' firepit, or how she gets across whole scenes with their varying emotions often without the help of dialogue. A subtle, resonant character story that's really everything I want out of comic. (This was a library book, but I may buy a copy for myself.)
Say I Love You Volumes 1 and 2 by Kanae Hazuki
Mei is a friendless loner, but then the handsome popular boy Yamato starts paying attention to her and things change. She gains friends, even rivals, and she starts to come out of her shell as she realizes that sometimes she can trust people and ask for help.
I'd heard great things about the anime, and also the story sounds so similar to Kimi ni Todoke, that I felt I had to check it out. The relationship certainly progresses much more quickly, as they kiss by the first chapter (it takes SO LONG for that to even start to happen in KnT). Mei's quiet but still kind of standoffish attitude of course makes everyone hate her for being with the popular boy, and it doesn't take long for a rival, in the form of the only girl Yamato slept with, to show up. I like the characters, and Mei's ability to get people to understand how to interact with people (based on her experiences of everyone interacting badly with her) makes for a story that reaches beyond her own problems. But, I couldn't get as invested as I would have hoped, partly because the story moves a little too fast. Also, Yamato, while generally sweet, is a little more forceful with Mei than I'm really comfortable with. I don't think I'll be compelled enough to keep up with this series.
Adventure Time: Seeing Red by Kate Leth, art by Zachary Sterling
Marceline forgot her bass at her dad's house, so she goes back to the Nightosphere with Jake to endure a family reunion and get it back.
So, I love Adventure Time. And I love Marceline. Plus I already own the other books in this series featuring various lady characters, so I had to get this volume. Focusing on one of the bigger problems in Marcy's life — her dad — she gets back home to find that her bass is gone, and that her dad actually stole it and sold it, sending her and Jake on a trail to get it back. Being in black in white, it's missing all the bright candy-coated colors from the show, but the scenes are still detailed and full of varied character designs, including awesome frequent costume changes by Marceline. I like Sterling's panel layouts, too, which are big enough to allow for the aforementioned detail and slow down the story enough to keep it from being too frenetic. The story gets a little cheeseball at the end (though that's fine with me), with a touching scene between Marceline and her father showing that he may not understand his daughter's motivations, but he still wants to try to make her happy. I also love the bonus story, in 4-koma style, of Lumpy Space Princess going on a quest for the hottest purse. Nice tough.
These are some of the comics I've been reading lately. Have you read any of these? What did you think? What other comics are you into right now?
The other day, a few Facebook friends posted the same article that brought up the connection between "messiness" and having a creative mind. Basically, people who tend to create cluttered environments for themselves also tend to think more creatively since you have to go a little outside the box to keep making everything work. I was pleased to hear this, and also — vindicated.
I'm not a neat person. I put effort into being so: I'll try to put my books on the shelves, remind myself to put away the spices when I'm done cooking, maybe actually use my jewelry box every once in a while. But in the end, clearing off the kitchen table is an insurmountable chore, and I swear sometimes that putting my clean laundry in the drawers causes me a small level of physical pain. Just look at the photo of my desk for proof:
There's room in my line of writing books, but I choose instead to leave others stacked on top. Random papers poking out everywhere. A box of paper clips containing one paper clip. A haphazard pile of books stacked on top of my husband's old laptop, which neither of us has used in, I think, years. Not shone is that day's coffee cup alongside the half-drunk tea from the day before, and the magazines, books, and an open box of envelopes shoved in the alcove under the printer.
Obviously as a kid my room was a pit. My sister shared the blame for that, but my brother's room wasn't much better. So, constantly, we were asked, ordered, implored to clean up the mess, to not stop until the rooms were "immaculate", a word so oft-repeated, and so impossible to attain, that it's now the only word in the English language I actively hate.
It was nice to see, with this article, that the mess isn't necessarily my fault — my brain actually does not function that way — and that it may have helped fuel my creativity. Take that!
There needs to be a balance, obviously; even the article mentions that. There have been times I've let things get so out-of-control messy that I can't think of anything else. And I can't expect friends to sit alongside unfolded shirts and eat around last week's mail. But maybe if I can figure out what the method to my mess is, I can stay comfortable in the kind of person I am without getting in my own way.
What about you — are you messy, or a neat freak? Does that ever get in the way of your ability to create? Do you wish you could be neater?
Ever since I figured out the YouTube app on our Playstation and my phone, I've been watching a lot of videos not just at my desk, but now on the couch while I eat lunch and even some of my breaks at work. So, my list of subscribed channels I watch has been steadily growing. While a lot of these channels are run by older men (I love you, John Green) I've stumbled upon a couple by younger (by which I mean, younger than me) ladies who I not only find interesting and funny, but inspiring as well.
A twenty-something ex-English major who talks about books and other nerdy things, her videos remind me of myself just out of college with the weird wide open world before her, except she seems to have a much better (and healthier) grasp on herself than I did at the time. I'm not too far off from where she is, so occasional talks about the uncertainty of Life After College and how that's normal and nothing to be ashamed of resonate quite loudly to me.
This channel is run by a high school kid named Sabrina. She showcases a big personality I wish I'd had the guts to show in high school, displaying her unabashed nerdy weirdness. I haven't skimmed as many of her videos as Margaret's, but again there's some fun focus on what she loves, and her reactions to the world around her. Also some videos that are simply fun, as above.
I just started looking at her page, so I've only gone through a few videos. But I would regret not mentioning her here, since I know this page has already inspired a couple of planned posts. This is mainly a book reviewing blog by a young woman named Sanne, but she also talks about books in general, what she's bought, as well as things outside of that scope. Right now, she's reminded me of how much I want to go back to writing quick reviews of at least the graphic novels I've been reading, with her own graphic novel review videos.
I don't vlog, but I blog, which is the same thing except I hide behind a mask of text rather than embarrass myself by trying to talk to people, and seeing how they handle the content on their pages has started to inspire what I want to try to do here. Firstly, to be a little more varied in the way that I talk about books with things like the list I showcased from JustMargaret's channel (though I need to be better at writing reviews, in general). Also, to not 100% focus my posts on books and/or writing. Though that's the alleged purpose of this thing here, I start to run out of unique or even mildly interesting things to say. Occasionally writing on other passions or interests (like YouTube videos) or things I take note of doesn't stray so far from the simultaneously specific and overly vague point of this blog, and may even generate the kind of conversations I keep hoping will start here, but which rarely ever do.
Anyway — go to their channels, watch their videos. They're very much worth it.
What's been inspiring you lately? Do you have any YouTube channels you enjoy? Ever made your own video blog? Share below!
A little while ago, I gave myself permission to give up on books, to leave them unfinished if I felt I wasn't enjoying myself. While I have a list of books I've given up before, I've always felt guilty about it — like it's me, letting the book down. Which is silly, but, also, it's my brain, so. But, telling myself not to feel guilty (or at least less guilty) has helped me cease reading when the book wasn't doing it for me.
The past few months I've been having an extra problem with it. There are at least a dozen books I've cracked open and then put aside before even reaching the halfway point. While in retrospect I agree with my reasons for ditching those books — not in the mood, could only think of other books I wanted to start while slogging through this one — I still don't really like doing it, since I'm wasting precious book time. So I've been thinking: How to keep this from happening entirely?
Test the waters. Not sure about a book? Crack it open, give it a quick read. Sometimes I read the first page or two before I take an unknown library book home to see if the opening sentences hook me. A friend (who obviously doesn't care nearly as much about spoilers as I do) reads the last page to find out if she cares to learn how the characters got there. Maybe you want to flip to the middle and see how the writing carries through.
Check your mood. Yeah, you've been meaning to read that 1,200 page fantasy novel…but is that what you really want to read right now? Maybe you're more in the mood for a funny essay, or an emotional but quick young adult novel. I try to make sure I have the right attitude for a book so I don't prematurely cast it aside, or feel like I have to slog through. Which brings me to…
No "obligation" reads. Unless you're in school, or it's for a job, or you're doing a writing friend a favor, there are very few books that you have to read. Never read Jane Austen? Don't worry, the English Majors police won't shoot you (they may give you funny looks, though). Can't get amped up for that popular paranomral thing everyone you work with is talking about? No big deal, you can stand to be left out of the conversation sometimes, maybe (not really, but you'll figure it out). Basically, you have too many books to read (I don't know about you, but my Goodreads "To Read" list is over a hundred long, and I can't think of anything to cut) so why waste precious reading hours on something that feels like a chore?
Careful about those impulses. I've done it. You grab a book with a pretty cover and an interesting title off the shelf, only never to open it, or to start and find out that the writing isn't very good, or that the main character is irritating (this is while I drop a book more than anything — if I can't stand the MC why should I follow him?) I've had lots of good impulses — I only read Amy Tan because I snatched The Joy Luck Club of a book sale cart at the last second — but there are too many other books that I've grabbed on a whim only to add another book to my unfinished list. If leaving a book half-finished bugs you that much, I suggest holding back and doing a little research before you lug those books home.
I'm hoping that if I check down the list I'll keep myself from wasting time on books I don't feel like, or that I don't really want to read. But mistakes happen; you are misled. Even with your anticipation the book's just not hitting any of the right chords. And then you have to figure out if, or likely when, to give it up.