"Most fish talk," the fish said, "if you are willing to listen. One, of course, must want to hear."
On the a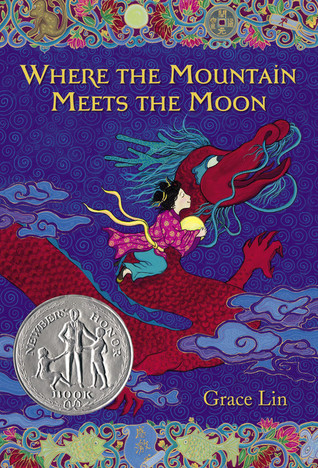 dvice of a recently freed goldfish, Minli decides to leave her poor village and find the Old Man in the Moon so she can ask him how to change her family's fortune. She meets friends along the way, including a dragon who can't fly and a buffalo boy with a celestial friend, on her long venture to the Man in the Moon's home, Never-ending Mountain.
I've been meaning to read this book for years, and I'm glad I finally picked it up. Throughout the book, Minli and other characters are told folk tales (which Min Li discovers to be true as she travels) that reveal certain things about the characters, and reveal how everything in Min Li's world is interconnected. But the regular narration reads like this, too, like a well-loved tale that's been told again and again, that made me want to read parts of it out loud to myself.
The hardcover I read is printed on thick paper, with beautiful, saturated color illustrations, and with colored line drawings to mark each new chapter.
And Minli is a great heroine. Even though she often needs help, she is not helpless, and figures her own way out of a lot of scrapes, like getting past some vicious monkeys.
As a writer, this book made me think back on a novel I wrote a few years back, but which I could never make work. I realize now that not only did I not get the tone right, but I gave him such a vague, esoteric motivation, so even though I'd plotted out the story and knew where to place him next, none of it ever felt important. Minli's motivation was simple — to change her family's fortune — but it gave her decisions weight, and gave readers a sense of where she should ultimately end up. If I ever go back to that story, I'm keeping this book in mind.
Where the Mountain Meets the Moon is a story I'd love to read again, maybe someday in the future when I have a kid who's old enough, and still wants me to read out loud.